QU Dongyu
FAO Director General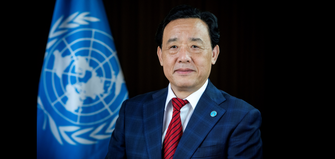 As we celebrate World Wildlife Day under the theme 'Partnerships for Wildlife Conservation', it is importance to highlight that working together in partnerships is critital to promote the conservation, sustainable use and management of wildlife resources. 
Wildlife is a valuable resource that is disappearing at a rapid pace due to over-exploitation by humans, habitat loss, invasive species, pollution, and the climate crisis.  
Millions of people around the world depend on wildlife for their daily food and livelihoods, and their cultural identity. 
This year's World Wildlife Day coincides with the 50th anniversary of CITES,  with whom FAO has been actively collaborating in many areas of work including: 
Serving as Secretariat of the Collaborative Partnership on Sustainable Wildlife Management; 
Working together in the Collaborative Partnerships on Forests  and on sustainable forest management;  
Trade regulation of commercially exploited aquatic species; and 
Legislative support, training and capacity building to Members to strengthen compliance with CITES legislative frameworks. 
FAO also works on innovative solutions with partners in 15 countries through the Sustainable Wildlife Management Programme to improve wildlife conservation, and to boost the food security and livelihoods of those who depend on these reseources.  
I would like to thank the Organisation of African, Caribbean and Pacific States for this initiative, and our donors from the European Union, the French Facility for Global Environment and the French Development Agency for their support. 
The health of the environment, including wildlife, is part of FAO's One Health through the One Health Joint Plan of Action, together with our Quadripartite partners. 
Let us continue to work together to make a difference for our world's wildlife. 
Thank you. 
Previous Messages