Robb Menzi
WCS Interim President and CEO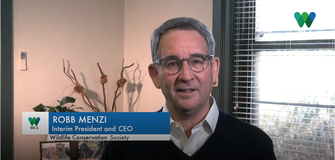 On this World Wildlife Day, the 50th anniversary of the creation of CITES, we at the Wildlife Conservation Society extend our gratitude to the individuals and organizations who put their focus and energy behind protecting and saving nature  
For the sake of wildlife. For the sake of people. For the sake of our planet. 
We especially want to acknowledge all those who have been a part of CITES -- The Convention on International Trade in Endangered Species of Wild Fauna and Flora. Implementation and enforcement of CITES has helped to ensure through international wildlife trade policy that species threatened by this trade have received needed protections. And we applaud the  outstanding leadership from governments, NGOs, and other partners through the years. 
 We can never underestimate the power of CITES over the past five decades. There have been many successes, from elephants and tigers, to parrots and sharks, with many species still in the wild and some even recovering, due to the foresight of those who drafted and agreed to this landmark treaty.  
 Effective conservation is always powered by partnerships. And The Wildlife Conservation Society is proud to have been a partner from the treaty's inception - and to have had WCS teams at all CITES meetings since the beginning. We work in close partnership with national and local governments, other NGOs, Intergovernmental Organizations, Indigenous Peoples, and local communities. Through CITES we are helping to ensure that any wildlife trade is legal and sustainable, that wildlife trafficking is stopped, and species are given a chance to recover and thrive in the wild. 
With increasing impacts of the climate crisis, the biodiversity crisis and the zoonotic pandemic crisis – we need sound regulation of globalized trade in wildlife (both legal and illegal) more than ever. On this World Wildlife Day, WCS joins all of our partners in re-committing to efforts to end the threat of international wildlife trade. 
Previous Messages