Sheam Satkuru
ITTO Executive Director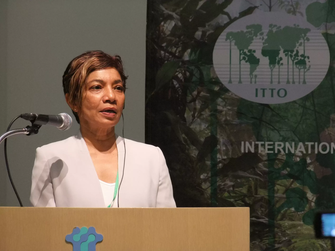 On the occasion of the World Wildlife Day, the International Tropical Timber Organization reiterates its support for the work of CITES towards the improved management and conservation of threatened tropical tree species. 
ITTO and CITES began working together to assist countries implementing listings of tropical tree species in the CITES appendices over 20 years ago and have jointly implemented wide-ranging programs from 2007–2022 supported by a range of donors focused on improving management of iconic tropical tree species listed in the CITES appendices such as big-leaf mahogany, ramin, afrormosia, ebonies, rosewoods and many others. 
Projects under this program have undertaken inventories of target species, developed management plans, undertaken non-detriment findings (NDFs) required under the provisions of CITES Appendix 2 listings, developed tracking and traceability systems to ensure traded specimens come from areas covered by an NDF, supported research and technology on wood identification, and a range of other activities to support the implementation of CITES listings of tropical tree species. Our joint work has helped countries to establish sustainable export quotas and to address concerns about the impacts of trade on the sustainability of tree species, ensuring that sustainable trade in these valuable species continues to promote sustainable development in countries throughout the tropics. 
The collaboration between ITTO and CITES to improve management and conservation of threatened/endangered tropical tree species, supported by a wide range of donors led by the EU and the USA, is an excellent example of how international organizations and the global community can come together to ensure that these iconic tree species continue to provide their myriad benefits to humanity and the many other wildlife species that depend on them. 
ITTO is grateful to the CITES Secretariat for its ongoing efforts to promote and facilitate our excellent collaborative relationship which we look forward to continuing in 2023 and beyond.
 
Previous Messages