Ngozi Okonjo-Iweala
WTO Director-General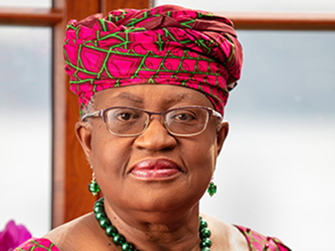 This year's World Wildlife Day comes at a pivotal moment in our lives - the polycrisis of wars, energy and food insecurity, climate change and biodiversity loss constantly remind us of our fundamental duties as leaders in our global community: we need to offer credible and effective solutions to these profound challenges directly affecting our societies. 
Trade is no exception. Trade is about people, how we exchange ideas, the fruits of our labour, how we interact and connect with our neighbours and strive to create positive and beneficial interlinkages across the globe. And maybe no other area in international trade is closer to our relationship with nature than trade in wildlife. The multilateral trading system has thus a duty – anchored on its central objective to promote sustainable development – to ensure trade is a key part of the solution to the wildlife conservation crisis.
We know how illegal, unsustainable trade can have devastating impacts on ecosystems that local communities rely upon for their livelihoods. But we also know how legal and sustainable trade has the power to lift communities out of poverty and provide them the tools they need to protect their natural habitats. Recent developments at the WTO show how concerted trade action can make a difference; from the initial agreement to ban subsidies that contribute to illegal, unreported and unregulated fishing, to renewed engagement on using trade to address climate change and plastic pollution. 
On this special World Wildlife Day in which we also celebrate 50 years of collaboration between CITES and the multilateral trading system, lets seize the momentum across the globe to think of a new model of re-globalization; one that spreads the gains to those previously marginalized; one that increases resilience while ensuring environmental sustainability, conservation and restoration are among its core components. We look forward to continuing our close cooperation with CITES in this endeavour.
Previous Messages